Corvette Application

Your Corvette side pipe glasspacks, or reverse flow mufflers don't flow like they should. They are very restrictive and rob your engine of horsepower and torque. Not to mention, they don't sound like you want them to.
Does this sound familiar? At STS we know exactly what you mean. We drive Corvettes with side pipes, we love them, and we make them run and sound the way they are supposed to.
Other sidepipe applications are available: Cobras, Street-Rods, Grand Sport Corvette, Cheetahs, and Vipers. Custom on Request
2000 FRC Corvette Coupe / Stock
The only addition I made to my FRC was 3.0″ x 12.0″ STS axle back baffle. Gains were from 292RWHP to 301RWHP. Torque went from 306RWT to 350RWT. Great gains with little expense…Dyno runs were through Backstreet Performance in Medina Ohio. Pulls on a dynojetDyno…
This project car, a C2 corvette with a high HP BB, was a customers car from Canada. it needed a lot of flow but he wanted to have it look as lose to the factory as possible. He built the headers and side pipes. Getting the 4″ under factory covers was the problem. Solution was to add a spacer to move the cover out from the body 1/2″. The only other fix was to elongate the tip opening. You don't notice the change unless you look at the picture closely. Since the first application, many have followed putting 4.0″ side pipes under factory covers.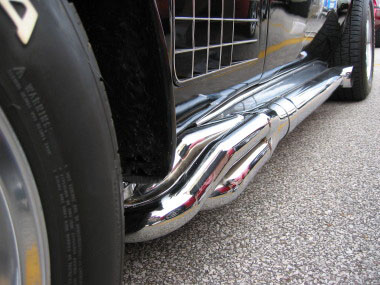 | PRODUCT | PRICE* |
| --- | --- |
| (4.0") Side Pipes 4" x 30" | $445.00/pair |
| (3.5") Side Pipes 3.5" x 30" | $445.00/pair |
| *Shipping and handling add $35* | |